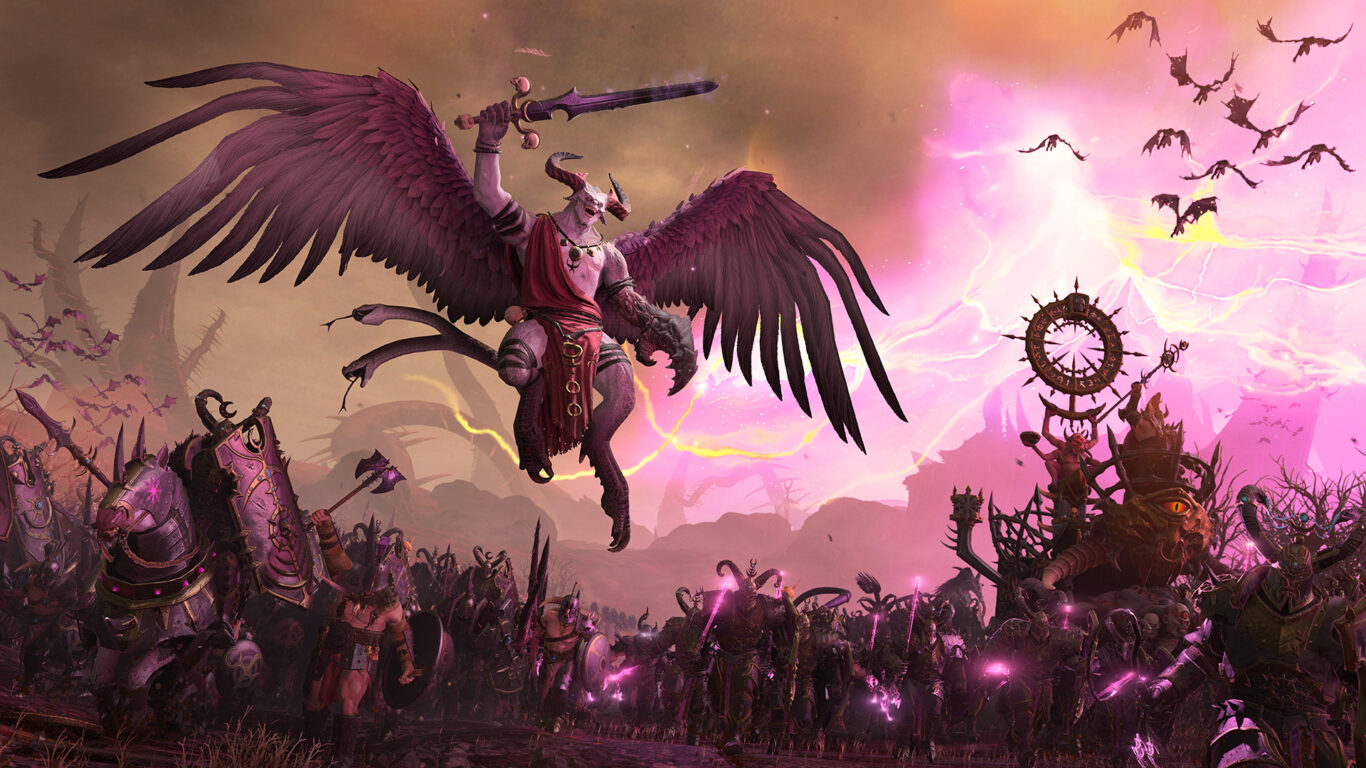 Final week, an replace on the upcoming Immortal Empires marketing campaign for Complete Warfare: Warhammer 3 unintentionally leaked a DLC including 4 factions with splendidly Warhammer names to the Chaos race's roster. They're referred to as the Ecstatic Legions, the Fecundites, Legion of the Gorequeen, and Puppets of Misrule. (I am fairly certain I used to personal a Metallica EP with a stay model of Puppets of Misrule on it.) Artistic Meeting has confirmed the leak was correct, saying the Champions of Chaos Lords Pack (opens in new tab).
Complete Warfare: Warhammer 3 already has loads of Chaos in it, what with being the main focus of its Realm of Chaos marketing campaign, so in addition to including 4 legendary lords and their factions the DLC will include a brand new marketing campaign so as to add some selection. The Champions marketing campaign is all about combating your approach to the traditional ruined metropolis of Zanbaijin to search out the Altar of Battle, dedicating souls to your chosen Chaos god alongside the way in which.
It comes with new mechanics like Darkish Fortresses, strongholds that may be claimed to show an NPC faction into your vassals so long as you maintain them, and Items of Chaos, which will be bought by spending souls earned in battle. You may also spend souls to advertise lords to daemon princes. A number of the Items of Chaos allow you to recruit items, and within the Champions marketing campaign any recruited items will be a part of your warband immediately, no hanging round.
The unit roster will get numerous new additions, together with "marked" variations of the essential heroes and lords that differ primarily based on which god they're devoted to, and 4 distinctive Regiments of Renown. Tzeentch will get halberdiers referred to as The Severed Claw, Khorne will get the axe-wielding Knights of the Brazen Throne, Nurgle will get the Chaos big Bilious Thunderguff, and Slaanesh will get chariots referred to as The Sibilant Slaughtercade. Actually, A+ work naming these final two.
Of the 4 legendary lords within the pack, solely Azazel of the Ecstatic Legion has been detailed up to now. Artistic Meeting calls him "the Swiss Military Knife of Slaanesh" as a result of he is multi-purpose, with a Temptator capacity that displays injury for tanking and a set of spells like Phantasmagoria and Lash of Slaanesh that make him respectable in help. Like the bottom recreation's Slaanesh faction he can seduce enemy items earlier than battle, and Azael can seduce items from the Empire, Brettonia, Catha, and Kislev for a lower cost. The opposite three lords might be detailed in Artistic Meeting's subsequent information posts, and primarily based on the names of their factions anticipate them to be Festus the Leechlord, Vilitch the Curseling, and the Gorequeen Valkia the Bloody.
Additionally releasing alongside the DLC might be an replace for the Warriors of Chaos race, who have been initially launched as DLC for the primary Complete Warfare: Warhammer, bringing them in-line with the brand new Chaos mechanics if you wish to play them in Immortal Empires. A free DLC referred to as Marked Chaos Warriors can even give the Warriors of Chaos three variant items: halberds for Tzeentch, hellscourges for Slaanesh, and nice weapons for Nurgle.
Loreheads will acknowledge a few of these particulars, just like the Fallen Metropolis of Zanbaijin, from a marketing campaign ebook for Warhammer Fantasy Battle referred to as Tamurkhan: The Throne of Chaos, revealed in 2011. That ebook included guidelines for Chaos Dwarfs, and since information miners discovered voice recordsdata for them in Complete Warfare: Warhammer 3, that is another reason to suspect they is likely to be the following race pack DLC.
The Champions of Chaos Lords Pack, in addition to the free Marked Chaos Warriors DLC and the Warriors of Chaos replace, might be launched concurrently the beta of the Immortal Empires marketing campaign on August 23.